THE ENGLISH CORNER. DUBLIN
23.08.18 - Escrito por: Alejandro García Rosal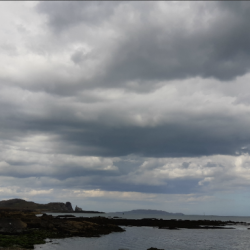 - "Tortin"
- "What?"
- "Tortin euro"
- "What the hell?????"
- "One three"
- "Thirteen euros!"

"Tortin" is what I paid first two pints of beer in Dublin. My baptism.
"Tortin" is thirteen in the way Irish people pronounce. As I long as I spent more and more time in the city I could realize much about Irish pronunciation, with examples such as "bus", "Dublin", "pub", "Budweiser", or "drunk", in which all the "u" are pronounced like an "u" and not like an "a" as it uses to be in British English.
This is the chronicle of my thirteen ("tortin") days in the charming, populous, commercial, expensive and gay-friendly city of Dublin.
Dublin is the Silicon Valley of Europe. Huge American multinational companies have settled there, providing with a rising in employment and economy.
Weather in Dublin in august is an unsolved mystery. As it is said there, one can live four seasons in one day. Bringing a small trolley of no more than 15 kg and not getting wrong with clothes was a real challenge.
Clothing and dressing is a main issue in Dublin. Any kind of clothes can be worn there. Impossible combinations of clothes and shoes no matter the rain. Independently of weather, temperatures or any referenced style. You can wear a flying penis on top of your head and nobody is going to realize, not even surprise about your outfit.
The most alive area in the city is Temple Bar. Pubs, live music, nice spraying rain and people from all over the world are the eclectic pieces of this puzzle.
Streets in Dublin smell. They smell exotic. They smell to India, Mexico, Greece, Turkey, Vietnam, etc. Once you are walking in its streets, you receive from time to time a fragrance of any country through its restaurants and kitchens.
Meanwhile, the figures of James Joyce and Oscar Wilde surround and are all-times present in any corner, in every detail of daily life. It is curious the statue devoted to Oscar Wilde in Marrion Park. Showing his duality and ambiguity, it can be seen as a sad person if you look at him from the left, and as a smiling one if you watch it from its right side. Curious and funny peculiar.
I tried to follow automatisms that are followed in Cabra. Every day, whenever I had checked that the coach of Seville had already passed, it was the time for the first pint. Different kinds of lager, toasted, draught, red, pale beers and obviously the Queen of them all, the Guinness. The main competitor was the cider, quite popular as well. And then, whenever I had fulfilled the ritual, I started my visits along the country, from the lovely Peninsule of Howth in the north to the touristic beach of Dun Laoghaire in the south.
No doubt, the most breathtaking experience along my visit to Dublin has been visiting Kilmanhaim Gaol (Jail, in Gaelic). It used to be a prison in which most of the prisoners were due to political reasons, and many executions took place. His last political prisoner was Eamon de Valera, in 1924, who later became president of Ireland. Would he have any Spanish connection with our fellow countryman Juan Valera? It seems to be.
Kilmainham Gaol has also been used as location in films, as the famous on "In the name of the Father".
So far, the funniest experience was the visit to Galway, where Horse races were being held. People in the train were drinking huge amount of beers, while most of women finished their make-up and dressing during the journey, while they also were drinking. It was something like the train to Cadiz in carnival fest, where you can travel for free if you wear a disguise. I am afraid.
Presumably, one of the most interesting visits for me was that of Belfast, though it became the most disappointing one. Whenever one thinks in visiting Belfast, thinks in going to hell and leave his testament done before. Going to Belfast was a bit disappointing as it has become in a thematic park of terrorism. Guides show visitors what they want them to see and tell what they want them to know. A partial vision of the former conflict. The most surprising thing is that still nowadays there exists segregation. One of the neighborhoods of the city has a wall that separates people, and with a few doors that have a rigid timetable, makes people live apart. Unbelievable these days...
About statistics, one statistics that have been positive has been that of fights. I only saw a fight in thirteen days. Not bad for being Ireland.
Irish history is tremendous. Irish people do not only have suffered British dominancy and oppression, they also suffered a great famine that killed thousands of people and forced to emigrate to some more. By the river Liffey, it exists a Memorial devoted to those people, with some impressive statues that represent the sad moment of anguished people leaving their country.
I bought my Joyce´s "Ulysses" and paid for it only 50 cents more than I had previously paid for a coffee. Funny. Then, I read in it, "scandalously frank, wittily erudite, mercurially eloquent, resourcefully comic and generously humane, Ulysses offers the reader a life-changing experience".
As travelling in itself
As Dublin in itself.